Vogue Korea
-J
---
Elle i New York magazine
Elle Fanning, little sister of actress Dakota, tastefully decorates her cake-themed designer outfit with a layer of real white icing in a photo shoot for this week's New York magazine. At Duff's Cakemix, a Hollywood studio that bakes the cakes and lets the customers have all the fun applying the frosting, the 14-year-old co-star of "Super 8" and "We Bought A Zoo" also displays a gorgeous flowered headdress made of icing.
-Ronja
---
Dakota i Glamour
On if she's having fun with the "fashion icon moment" she and sister Elle are having now…
"It's really fun when you're getting dressed for something. It's not when you're in the rain with an umbrella and trying to carry a case of water. Yep, that's me, alone, coming from Duane Reade. I'm not wearing a bra. Deal with it."
On if she was surprised when her Marc Jacobs perfume ad was banned in the U.K. in 2011 for being "sexually provocative." [In the ad Fanning sits on the floor with a large perfume bottle between her legs.]
"Yeah, I was! If you want to read something into a perfume bottle, then I guess you can. But it's also like, Why are you making it about that, you creep? I love Marc and trust him, and we just laughed about it."
On if she'd ever turn her love of clothes into a career a fashion designer…
"I don't think so. I mean, I won 't rule it out, because then one day I'll be like, "I said that in Glamour in 2013, and here I am now [with my own line]." But when you know designers and see the work that they put into making their collection, and how much passion they have for that—I think that's so amazing. And I don't have the passion to design clothes. It's nice to be able to grow up and know what you want to do…. I'm reminded of that every time I make a film."
On what little sister Elle has taught her…
"She's very uninhibited and will try pretty much anything. Even the way she dresses— she dresses totally for herself. She risks being made fun of…by me, which I sometimes do, because I'm an older sister! But I totally admire her and think she's very cool."
---
Entertainment Weekly
- J 
---
W Magazine
/J
förlåt att jag inte bloggat på hela veckan...
---
elle i W Magazine
/R
---
Behind the Scenes - InStyle photoshoot
---
Elle på framsidan av ELLE
---
Elle på framsidan av ELLE
---
Interview of Dakota Fanning by VIVA
The Team VIVA recently attended the red carpet premiere at The Printworks of the fabulous new film 'Now Is Good'. However before they were even making their way across town to the big screen, they were lucky enough to meet both the film's star (Dakota Fanning) and its wonderful director (Ol Parker).

VIVA: Tell us a little bit about Now Is Good and your character Tessa?

Dakota Fanning: Yeah, 'Now Is Good' is a story about a seventeen year old girl called Tessa, and she pretty much finds out at the beginning of the film that she is terminally ill and is going to die. She has made the decision to stop her treatment, to be able to do things and live her life the way she wants to – and it ends up being a story of, kind of, you try to do all these things and your life just sort of happens to you. Your life just sort of happens to you and she finds that other things are more important and other things become less important…

I haven't actually seen the film yet but I had the most fun making it – and I look forward to seeing it.

VIVA: Now Is Good is a film adaptation of Jenny's book Before I Die. If you could choose to play a character in any other film-remake of a book, who would you choose and why?

Dakota Fanning: Wow – well it's hard, certain ones have already been done so… There's a book called The Marriage Plot and I absolutely love that. It's a bit of a random one but – I love it.

VIVA: Like many of your past film characters (such as Lewellen in Hounddog and Emily in Hide and Seek), Tessa sounds like an intense role to play. How did you prepare for the role and get into character?

Dakota Fanning: I don't know, I don't really know how I do it. I truly love what I do and I look forward to doing these roles. I had so much fun doing this one – people ask, you know, "how did you have fun doing this one?" but I really did! The script is what I really base everything on, and you're very lucky when you have someone like Ol to work with. He's so amazing and I knew I'd be protected by him so, I just went with my instincts. It's what I want to do and love to do, so I sort of just go for it.

VIVA: we've read that your family background is actually very sporty – as oppose to part of the drama industry, which is interesting particularly as an actress who started work so young. What was it that made you want to take on acting?

Dakota Fanning: Yeah you know, I mean it kind of happened randomly – things just sort of happen in life. I'm from Georgia originally and I did a few things there for fun and then went to LA to see how it would work out… I got my first film, it all sort of happened from there and so I kept going. I'm so lucky my parents and family supported that; it's so cool to know what you want to do, it's a nice feeling to be able to do it. A lot of people find negatives in that, but knowing all along has been the biggest blessing I've ever had. Getting started so young and being able to do so many things has been great – I've had a great life so far and I'm extremely grateful for it.

 

/Josefine
---
Dakota på framsidan av Stella
/Josefine
---
Elle Fanning: "I Am The Fashionista Of The Family"
Elle Fanning shows off different looks in the new issue of Italy's Gioia magazine. The 14-year-old younger sister of Dakota Fanning talks about their relationship and her love of fashion. The actress says she doesn't ask Dakota for advice.
"No, when we are together we talk about other things, we do our homework, we clean our rooms, we read and we fight because we are real sisters! Dakota is always asking me advice on how to dress since I am the fashionista of the family."
She adds, "I love fashion, I read magazines, I follow the fashion shows – even though I still prefer to look youthful. I always buy vintage clothing, especially from Decades. What else? Miu Miu, Versace and vintage collections of Rodarte sisters … Ah, yes, and Marc Jacobs!"
As for pets – she has many.
She shares, "Yes, a dog named Lou Ellen, Goldie, my horse, and Angel Wings, a goldfish that I have for years, getting older, he became fluorescent … Nature is amazing."
/Josefine
---
"Cosmopolitan" Magazine (Sverige)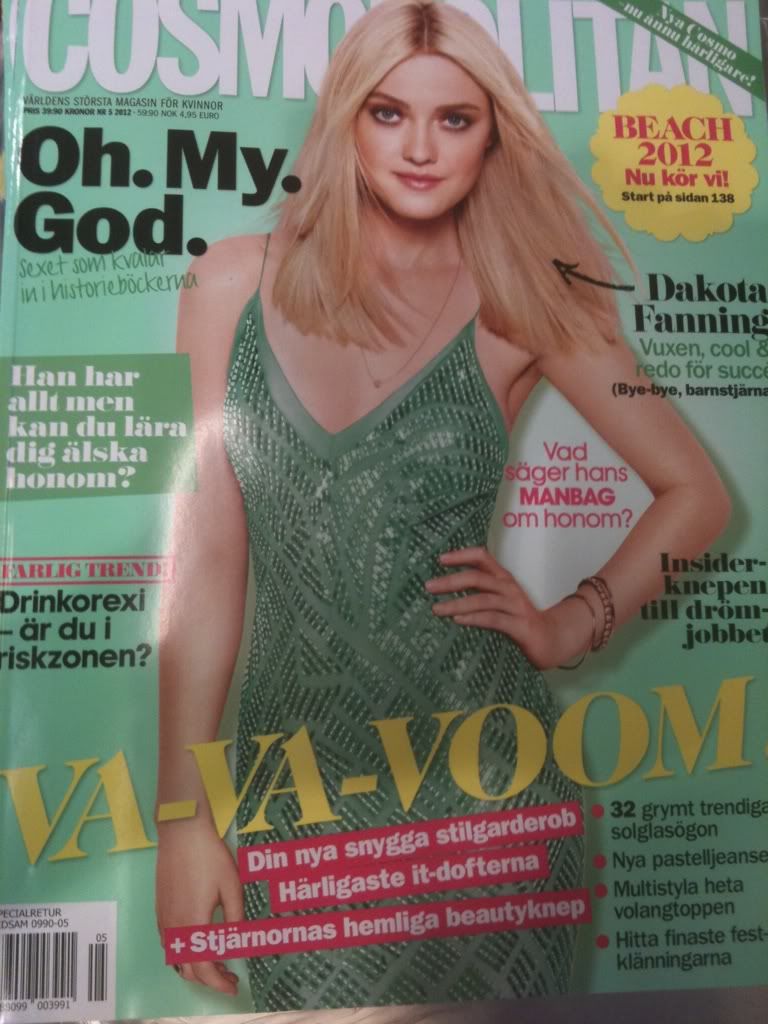 /Josefine
---
Dakota i Californina Style
så vacker!! :)
---
Elle i tidningen Julia nr.6


//Ronja
---